Roopkund is also known as Mysterious lake and Skeletons Lake,it is a high altitude glacial lake in Chamoli district of Uttarakhand state of India.This lake is famous because more than five hundred skeletons of human being has been found at the edge of this lake.The lake is a popular trekking destination, the depth of this lake is about two metres, Roopkund has attracted most because of the mysterious stories behind it, because of the human skeletal that are visible in summers when the snow melts it is called skeletons lake, It is believed that many people got killed in this region was a result of landslides,what happened to the people it is still a mystery because not even a single man survived from the incident to tell the true story.The lake is surrounded by glaciers and snow clad peaks. Debal is the starting point of the Roopkund trek.
Roopkund Lake is situated at eastern part of chamoli district of Garhwal in Uttarakhand, Bhagwawasa and Bedni bugyal are the main attractions of this trek.A lot of "Bramhakamal"(state flower of Uttarakhand) at trekking route. The best time to terk Roopkund is August to October.
Choosing the Roopkund trek is an audacious journey which passes through many non-native and beautiful locations. While trekking towards the lake, you would find green grassy land and forest ranging towards. You can enjoy the beauty of nature at this place.
Trekking Tour Packages of 6 Nights/07 Days
Roop Kund Trek – Itinerary
Day 01: Rishikesh to Mundoli (Distance- 215 kms, Time 7-8 hrs)
Start driving from Rishikesh to Mundoli via Dev Prayag, Rudra Prayag and Karnaprayag. Arrival at Mundoli by evening. Dinner and night stay in theCamps.
Day 02: Mundoli to Bedni Bugyal (Height 3350 mts)
After driving 10 km in the morning we reach to wan,our trek start from wan.From here we start trekking to Bedini bugyal which is 11 kms away from wan and it takes around 6 hours to reach.Bedini Bugyal is one of the best camping site in Uttarakhand. Dinner and night stay in the Camps.
Day 03: Bedni Bugyal
Day 3 is a rest day and gives best opportunity to explore Bedini bugyal.Bedini bugyal is a clear green large meadow and There is a small lake situated in the midst of this bugyal which is called Bedini kund.Bedini Bugyal falls on the way to Roopkund near by Wan village. Some peaks of Trisul and Nanda Ghunti can clearly seen from here.Dinner and night stay in the Camp.
Day 04: Bedni Bugyal to Bagubassa ( Height-4100 mts)
After breakfast in the morning trek to Bagubassa.Bagubassa is kind of flower park,this place is full of variety of flowers including the rare Bhram Kamal, Bhram kamal can only be found in the altitudes of 14000 to15000 ft. The distance of bagubassa is 11 km from Bedini bugyal, which takes around 4 to 5 hours to reach campsite at Bagubassa. Dinner and nightstay in the Camp.
Day 05: Bagubassa to Roopkund to Bedini bugyal ( Height-4450 mts)
Bhagubasa to Roopkund is an easy trek inThe trek to Roopkund,the location of snow cladded fields beautiful views of Trisul,Badrinath,nanda ghungti peaks can be seen from here. Some of them with flesh attached. It is believed that 300 persons in Roopkund died here about 500 -600 years ago. Trek back to the Bedni Bugyal in the afternoon.Dinner and night stay at the camps.
Day 06: Bedni Bugyal to Wan (Height-2436 mts)
Start trekking back towards wan,it will take will take around 3-4 hrs. Dinner and nightstay in the tents.
Day 07: Wan to Rishikesh (2200 mts)
After an early breakfast in the morning drive down towards Rishikesh.Lunch will be provided on the route,at arrival of Rishikesh our tour ends.
Roopkund Trek Best Time
This trek could be done in 2 shifts in May-June and Aug-Sept. If you choose summer time of may to june than you would be able to see the green meadows(bugyals) and the bugyald would not be snow cladded,as well as the Roopkung,the water would be transparent and it would be easy to see skeletons. In case you choose winter time September ,then the meadow would not be green,the trek would be snow cladded as well as the Roopkund too. Both the timings are best depend on your interest.
Roopkund Trek Distance
Trek to Roopkund starts from Rishikesh,the distance between Rishikesh to Roopkund is around 142 kms,for this trek first we drive from Rishikesh to Mundoli and Mundoli to wan from where we star trek to Bedini bugyal and Bedini Bugyal to Bagubassa and at last Bagubassa to Roopkund ,it is very long trek and it takes around 4 days to complete from wan.
Roopkund Trek Map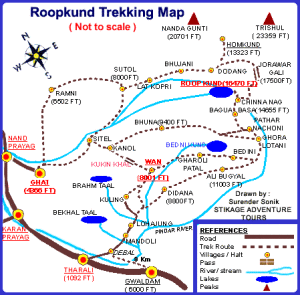 Delhi to Roopkund Trek Cost
For trek to Roopkund from Delhi you should come to Rishikesh first ,which is a base camp for Roopkund trek,from Rishikesh the trek starts to roopkund.The cost of roopkund trek from delhi Is around 8,500 per person based on a group size.