Kuari pass is located in chamoli,chamoli also Known as the Abode of Gods, Chamoli in very famous in india because of its pilgrimage,scenery, centers and biodiversity. Earlier chamoli was known as Kedar-Khand, Chamoli district is surrounded Uttarkashi , Pithoragarh ,Almora ,Rudraprayag,the four district of uttarakhand.
Kuari Pass Trek is one of the most beautiful trek located in beautiful Garhwal Himalayas of Uttarkhand. Kuari pass is located in Chamoli district of Uttarakhand,this part is under the provinces of nanda devi wild life sanctuary .The meaning of khuari is doorway ,This trek is also known as Curzon's trail,because Lord curzon made this trek to Kuari pass,he was the invader of India in the time of british rule. Kuari pass trek is one of the well known treks in Uttarakhand, located at height of 4262 mtrs above the sea-level. It is a most favoured spot for camping in summer.The beautiful trek passes through the thick forests of alpine and oak. The fauna of kuari pass is rich in some of the Himalayan species like,Himalayan tahr, serow,Himalayan musk deer,goral,brown bear,bharal, leopard, common langur
The trek to Kuari Pass starts from auli, which is in the driving distance from Ghat. This track gives a very lovely and breathtaking close views of Mt Nanda Devi(Heighest peak of Uttarakhand)There are big mountains everywhere to memerise the visitors Hati Ghoda, Chaukhamba, Neelkanth, Dronagiri etc.
At the starting of the trek, you can see the amazing north face of Nanda Devi mountain from the base. After entering in to Gorson Bugyal visitors can explore more peaks of garhwal Himalaya in front of you- Dronagiri, Neelkanth, Chaukhamba,Kamet(second highest peak of Uttarakhand),Mana, Hathi Ghoda forming a grand amphitheatre. This moderate trek is a must for any mountain lover.Visitors below 10 years are not allowed to trek here.
Kuari Pass Trek Map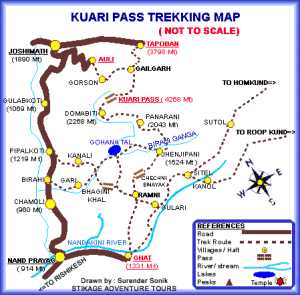 Cautions
The Kuari Pass is at the height of 12,000 and this is a very high altitude trek. Visitors can suffer high altitude sickness or Mountain sickness While trekking at that altitude.Trekkers suffering from high or low blood pressure,Heart problem,Asthma should prescribe doctor before plan the adventurous trek tour.
One should must keep woolen cloths if trekking in Winter season,the trek can be a much colder than your expectation.The cold breeze and the freezing temperature can leads you to hypothermia.
Kuari Pass Trek best Time
Trekking is available throughout the year in this area but thetemperature of this area during summers remains between 19̊C to 29̊C and the winter temperature remains between -8̊C to 12̊C. So the visitors should choose most appropriate seasons for them to trek.
06 Nights/07 Days Kuari Pass Trekking
Kuari Pass Trek – Itinerary
Day 01: Rishikesh to Joshimath (Distance-265 kms/Time 8 – 9 hrs)
Drive towards Joshimath from Rishikesh via Devprayag, Rudraprayag, Karnprayag and Nandprayag. Lunch will be arranged in the route. Arrival at Joshimsth by the evening.check in to your pre booked Hotel. Dinner and overnight stay at the Hotel.
Day 02: Joshimath (Auli) to Chitrakantha(Distance- 15 kms Time6 – 7 hrs)
After breakfast in the early morning drive to Auli,the magnificent view of Nanda Devi peak can be seen from the way.The trek will be start from Auli.While trekking famous meadows of Gorson ,The world heritage site of nanda devi wild life sanctuary /national park can be seen from the trek. Dinner and overnight stay in the Camps.
Day 03: Chitrakantha – Kuaripass – Dakhwani
After breakfast In the morning we will trek to Dakhwani via Kuari pass. This is a thrilling trek.Dinner and overnight stay in the tents.
Day 04: Dakhwani to Pana (8036 ft) (Distance 14 kms Time 5 – 6 hrs)
After breakfast In the morning trek to Pana.While trekking one can see amazing natual view snow clapped mountains,green meadows, waterfalls etc. Dinner and overnight stay in the tents.
Day 05: Pana to Ramni (8364 ft)( Distance 17 kms Time 5-6 hrs)
After breakfast In the morning we will trek to village Ramni. Dinner and overnight stay in the tents.
Day 06: Ramni to Ghat (4363 ft)( Distance 15 kms Time- 4 hrs)
we will trek downwards in the morning to reach roadhead Ghat and drive to Srinagar from here (110 kms/3 hrs). dinner and overnight stay in the hotel.
Day 07: Srinagar to Rishikesh (Distance105/130 kms Time-4 hrs)
After breakfast in the morning drive to Rishikesh. On arrival at Rishikesh tour ends with sweet and unforgettable memories of the tour.